Lesley Gibson went to Berlin to present the first of IRIS-Fire's preliminary work on the remote sensing detection of informal settlement fires.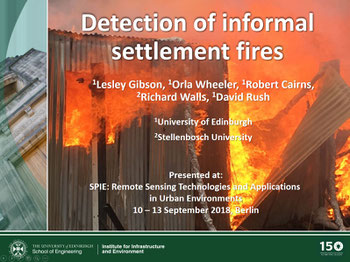 Hosted within the broader SPIE. Remote Sensing conference, Lesley presented our work at the Remote Sensing Technologies and Applications in Urban Environments conference which took place in Berlin on 10 and 11 September.
Conference themes included urban air quality and climate, smart and sustainable cities, urban planning and mapping the built environment. Lesley presented "Fire detection in informal settlements" in the mapping and built environment theme.
The IRIS fire team has been working on developing a mapping algorithm to detect a significant change event in informal settlements which may indicate a historic fire. The algorithm runs within Google Earth Engine allowing access to thousands of archived satellite images, anywhere in the world at the click of a button. Preliminary work is promising and development is ongoing. The topic seemed to be of interest to the audience who had quite a few questions for Lesley. 
It was a short trip but Lesley managed to fit in a couple of hours site-seeing dashing around Berlin on awalking tour. Since she is not a fan of selfies, we have no photos of Lesley to post but she was quite taken with the traffic lights in East Berlin so we have posted these instead.